NV Microlaser in Arlington Heights, IL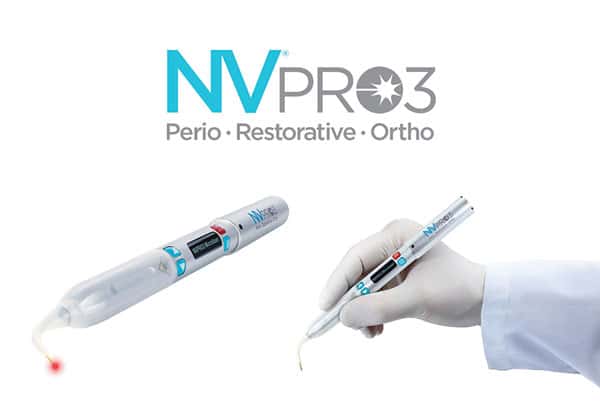 Optimized for all of the periodontal, restorative, and orthodontic procedural needs, the latest evolution in cordless soft-tissue lasers enables us to deliver the benefits of laser dentistry in Arlington Heights, IL to each patient. The next-generation NV® PRO3 Microlaser continues that award-winning tradition. For nearly a decade, the NV® Microlaser has set the bar for convenience, portability and ease of use among all dental soft-tissue diode lasers.
The NV PRO3 Microlaser is intended to be used for oral soft-tissue surgery, including: sulcular debridement of diseased fibrous tissue, excision and biopsy, gingivectomy, gingivoplasty, lesion (tumor) removal, fibroma removal, tissue retraction (troughing), aphthous ulcers, gingival hyperplasia (excision and recontour), crown lengthening, operculectomy, frenectomy, and photocoagulation. In addition, the diode laser may be used for periodontal procedures, including: laser soft-tissue curettage, laser removal of diseased, infected, inflamed, or necrosed soft tissue within the periodontal pocket, removal of highly inflamed edematous tissue affected by bacteria penetration of the pocket lining, and junctional epithelium.
Please contact our dental office in Arlington Heights, IL and ask us about the newest innovation in dentistry and how it can help you achieve your optimal health!